PRINCIPALS FROM EUROPEAN UNION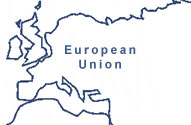 ALSTOM POWER ENERGY
EURO PRESS PACK S.r.l
EXPANSION SEAL TECHNOLOGIS
FEY LAMELLENRINGE VERTRIEBS
FORTUS ROMANIA
HYDRATIGHT SWEENEY, UK.
INDUGA
KOPPERN
LLOYDS SOMERS
LINEAR HYDRAULIC ACTUATORS
M&W ASKETEKNIK APS
METALTECHNIC
PROTEM S A
RIMA INDUSTRIAL S.A
SCHMITT EUROPE LTD.
SIEGERLAND BREMSEN


ALSTOM POWER ENERGY, GMBH.
Schack Shell & Tube Recuperators


A company formed from the merger of Schmidt Sehe Heissdampf Gesellshaft Gmbh, and Rekuperator Schack Gmbh, Dusseldorf, Alstom Power, a pioneer in process gas cooling system manufacturers Schack Shell and Tube Recuperators for cooling dust-laden gases in various processes with temperatures of upto 1100°C.

The flue gases pass through the vertically arranged heating tubes at high velocity while the heat absorbing gas pre-heated in the shell section of the tube bundle is conveyed around the tubes by baffle plates.

| | |
| --- | --- |
| | Radiation Type. |
| | Convection Type. |
| | Shell and Tube Type. |
| | Convection Banks. |

Application exists in Carbon Black, Filter and pigment industry, smelting furnace, aluminium industry, chemical and petrochemical processes.

More information at www.shg-schack.com


Recuperators




Hydraulic high
pressure equipment
and components

EURO PRESS PACK S.r.l, ITALY .
Hydraulic Products


Euro Press Pack, Italy popularly known as EPP is a leading manufacturer of quality hydraulic high pressure equipment and components. The products include hydraulic pumps which are available in over thousand configurations, featuring hand-operated pumps, air-hydaulic pump, compact electric pupms and modular electric pumps, 700-1000 bar --1600-2800 bar.

They also manufacture hydraulic tooling equipment like


hydraulic spreaders and nut cutters.

hydraulic pliers and extractors.

toe lifting jacks.

hydraulic load cells.

hydraulic cylinders.

(all cylinders treated with special anti-corrosive nitriding process, for resistance to wear and abrasion).

EXPANSION SEAL TECHNOLOGIS, USA
Pipe and Tube Pressure Testing and Plugging Equipment


EXPANSION SEAL TECHNOLOGIES, USA, established in 1968, is a global manufacturer and designer of pipe and tube pressure testing and plugging equipment. EST has specialized in development & manufacturing of tools that greatly simplifies the maintenance of Heat recovery steam generator, Condensers, Feedwater heaters, Oil coolers, Hydrogen coolers & various other applications, which speed-up in-service, inspection of pipe line and pressure vessels. The company's products are in service at over 50 nuclear and 500 Thermal Power Plants throughout the world.

Expansion Seal Technology offers


| | |
| --- | --- |
| | G-SERIES TUBE TESTING GUNS: For locating and identifying leaking heat exchanger tubes. |
| | POP-A-PLUG TUBE PLUGS AND POP-A-PLUG TUBE PLUGGING SYSTEMS: For quickly preparing and plugging leaking heat exchanger tubes. Seals at pressures to 7000 psi (480 bar) without welding or explosives. |
| | TUBE SLEEVES: The majority of tube problems in heat exchangers & condensers occur within the first 5% of the inlet end of the tube. We can install upgraded material tube sleeve 6" to 8" length from the tube inlet. The Tube sleeves are hydraulically or mechanically expanded. |
| | GRIPTIGHT AND SQ2 TEST PLUGS: For high pressure hydrostatic testing of pipe, pipelines and pressure vessels. Safe and effective at working pressures to 14000 psi (960 bar). Pipe OD and ID sealing versions are available. |
| | HIGH LIFT FLANGE WELD TESTING PLUGS: For quickly isolating and hydrostatically testing the weld joint of any welded flange to pipe connection. |

FEY LAMELLENRINGE VERTRIEBS, GMBH
Laminar Rings


Laminar ring were initially used to seal piston and cylinder on internal combustion engines. Laminar ring seal with their unique technology and their sealing effect are able to tackle critical sealing problem areas, which occur in industry.


Successfully users of Fey Laminar ring includes

Manufacturing of rollers bearing.

Exhaust pipes for internal combustion engines.

Temperature measurement and control system.

Continuous casting plant.

Transmission system.

Power units and many other.......





FORTUS ROMANIA
Rolls For Steel Industry


M/s. Fortus S.A., established in 1978, is having complete technological know how for various heavy machineries and equipments with complex Metallurgical-Mechanical Structure for Steel Industries like blast furnace parts, burning machines, rolls, steel converters, slag pots, palletizing cars, rotary kilns etc.

They are the biggest producer for Cast and Forged Mill Rolls in Romania.

Fortus Technical Standards are compliance with DIN, GOST. ASTM, JIS, BS and they are having Quality Management Certification TUV CERT according to ISO 9001-2001 standard.

We represent M/s. Fortus in India for marketing of Work Rolls as well as Back up Rolls through their Export House METALEXPORTIMPORT.

More information at www.fortus.dntis.ro

HYDRATIGHT SWEENEY, UK.

Hydratight Sweeney is acknowledged as the only single-source provider of all bolt tightening and tensioning devices such as :


Hydraulic Torque Wrenches



Unique tools for precise and fast torquing of nuts and bolts.

Torque ranges from 123-28000 ft-lb.

Versatile - can be used for a wide variety of nuts.

Lightweight, compact and low maintenance.

Other products


Bolt tensioners.

Mechanical Torque Wrench.

Torque Multiplier.

Nut Splitter.

Flange Spreaders.

Plasma Tundish Heating


INDUGA, GMBH.
Plasma Tundish Heating Systems


INDUGA offers systems which heat the melt using plasma acrc. Depending on the application, the systems can be operated with DC or AC power are equipped either with water cooled metal torches or special graphite electrodes. Excellent temperature control and a clean, carburisation-free heating are assured in all cases. Besides flexibility, our approach is typified by individual concepts and process specific solutions that take account of both quality and efficiency aspects.


The Plasma Tundish heating system generally comprises of the following components

Electrode (water cooled or made of Graphite).

Suspension arm system for positioning and moving.

Temperature measurement and control system.

Power supply and control system.

Gas and cooling water station.

Bottom Electrode (with only one torch).

KOPPERN , GERMANY.
Briquetting, Compacting, Comminution


Roller presses and complete plants from Maschinenfabrik Koppern GMBH & CO KG. Hattingen, Germany.


Since 1898 Koppern has been engaged in pressure agglomeration, particularly in the development and construction of roller presses. During that time more than 1000 roller presses have been sold worldwide for briquetting, compacting, and comminution.


Our experience and expertise combine in the production and supply of quality equipment and plants with high availability.


Our Services comprise start-up, maintenance, training and the supply of spare parts.

More information at www.koeppern.com

34 Tonne Telescopic
Coil Lifter

LLOYDS SOMERS, UK.
Tongs


LLOYDS Somers manufacturers SAFE and efficient handling device for lifting mechanisn :

| | |
| --- | --- |
| | Slab and Pack Handling Steel. |
| | Aluminium Slab Handling. |
| | Coil Handling. |
| | Slewing Hooks. |
| | Sheet Handling. |
| | Automatic Tongs. |
| | Roils Tongs. |

The design of LLOYDS Somers equipment has evolved over a long period of time by close association with all our customers in Steel Industries throughout the world. Variety of standard design for simplex, duplex or quadruplex tongs covering lifting capacities up to 150 tonnes is available.

Specialized requirements custom built can be incorporated into any designs.


More information at www.lloydsbritish.com

LINEAR HYDRAULIC ACTUATORS, ITALY .
Hydraulic Cylinders


Hydro-Line is a worldwide designer and manufacturer of hydraulic and pneumatic cylinder. Hydro-Line is trademark known for high performance, reliability and long life of cylinders.


Hydro-Line, the group is comprised of Hydrowa (large bore actuators), Air-Dro (large medium bore actuators), Compact Air products (space efficient pneumatic and electromechanical actuators and components) and Midland Pneumatic ( stainless steel pneumatic actuators and components.

More information at www.hydro-line.it





Hydraulic Cylinders

M&W ASKETEKNIK APS, DENMARK
Analysing and Sampling Systems for Coal-Fired Power Plants & Boilers


M&W ASKETEKNIK APS, DENMARK, is an international engineering company specializing in the design, manufacturing and supply of analyzing and sampling systems for optimizing processes and end disposal products in coal-fired power plants and other utility boilers. Several hundred units are successfully analyzing and monitoring combustion processes in power stations worldwide.

M&W ASKETEKNIK APS offers

| | |
| --- | --- |
| | Raw coal sampling systems (RCS). |
| | Pulverized fuel sampler (PFS). |
| | Dustless connections (DC). |
| | Automatic coal flow monitor (ACFM). |
| | Dirty air pitot (DAP). |
| | Automatic dust sampler (ADS). |
| | Residual carbon analyzer (RCA). |
| | Fly-ash sampler (FAS). |

METALTECHNIC, GMBH.
Low Carbon Steel Shots


Metaltechnik Schmidt Gmbh & Co. manufacturers low-carbon steel shot FERROSAD. Low carbon steel shot gives a longer durability than high carbon shot, because it is relatively crack-free. It is basically used in processes like Descaling. Deburring, Derusting & Cleaning, Blast-Polishing, Lap Blasting Industries, Roughening work and Sand removal.

More information at www.ferrosad.com




PROTEM S A, FRANCE.
Portable Pipe and Tube Machining Equipment


PROTEM S A, France, ISO 9001 accredited, a global leading manufacturer and designer of portable pipe and tube machining equipment, offers Standard & special equipment for weld / edge preparation (cutting & beveling), surfacing tools that greatly simplifies & speeds-up the machining processes.

PROTEM offers

Beveling machine :
OD claming : capacity from 3mm to 120mm OD.
ID clamping : capacity from 8 mm to 100mm.

Cutting & beveling machine.

Flange surfacing machine.

PREFAB range.

Specialized equipment for Nuclear power industry.

RIMA INDUSTRIAL S.A, BRAZIL .
Alloy Injection Cored Wire


Rima Industries S/A was founded in 1987. It is the 4th largest producer of silicon metal in the world, the 2nd largest magnesium die caster. Quality being a priority, RIMA divisions have ISO 9001-2000 certification.

Rima supplies a diverse line of products such as :


| | |
| --- | --- |
| | Casi Wire. |
| | Silicon Metal. |
| | Calcium Silicon Alloys. |
| | Magnesium Ferro Silicon. |
| | Ferro Silicon 75%. |
| | Pure Magnesium Metal. |
| | Magnesium Alloys. |
| | Speciality Cored Wires. |
| | Magnesium Die Cast Parts. |


More information at www.rima.com.br





Vertical Coil

Wheel Balancing System




SCHMITT EUROPE LTD.
Grinding Wheel Balancing Systems


Schmitt Industries designs and manufactures a wide range of dynamic balancing systems

Benefits of dynamic balancing system:

| | |
| --- | --- |
| | Improved dimensional accuracy and surface finish. |
| | Extended grinding wheel life. |
| | Reduced vibration and machine wear. |
| | Longer periods between wheel dressing. |
| | Reduced set-up times and increased productivity. |

Products

Dynamic Wheel Balancing System
(Flange type contact / non-contact balance, Internal Balance, Ring Balaner, Hydrokompenser).

Semi Automatic Grinding Wheel Balancer.

Portable Balancer.

Acoustic Emission Monitoring System (AEMS).

Universal Balancing Machines for balancing components weighing from a few grams to 20 tonnes.

Schmitt can offer complete solution for your balancing needs including design of adapter Flange. Nut for mounting Wheel Balancer on Machine.

More information at www.schmitteurope.com

SIEGERLAND BREMSEN, GERMANY.
Disk & Drum Brakes, Thrust Brakes


SIBRE'S company philosophy is based on their efforts to achieve an optimal combination of a high quality and easy-to-use product available at market-oriented prices for both the system builder and the user.


Leaders in know-how

The continual developments in brake technology achieved by a team of highly qualified engineers, technicians and designers will guarantee a suitable solution in spite of increasingly complex drives. They have not only 40 years of experience in brake manufacturing at their disposal but also testing laboratories unique the world over for a brake manufacturer.


Service as product

Correct design and handling are clearly necessary to ensure both smooth installation of the brakes and a guarantee of many years of troble-free use for the operator.


Products


| | |
| --- | --- |
| | Release Thrustors. |
| | Drum Brakes. |
| | Disc Brakes. |

More information at www.sibre.de